In 1985 Run-DMC released their 2nd studio album "King of Rock".
The 9 track album took the rock influences further, this time even going into reggae when collaborating with Yellowman for the song "Roots, Rap, Reggae". This collaboration is probably the first significant collaboration on a Hip Hop album ever.
"King of Rock" is not only the title of the album, but also a name of the second track on this album. The track "King of Rock" was the first single released in 1985 from Run-DMC's second album. Funny enough in the video for this track Run-DMC visit a "Rock n' Roll Museum" and are told they do not belong in there. Well, the video was shot years before the real Rock 'n Roll museum, the "Rock and Roll Hall of Fame & Museum" was build. And in 2009, Run-DMC were inducted into the "Rock and Roll Hall of Fame". So 24 years after releasing the song Run-DMC became officially accredited Rock and Roll legends.
The second single released from the album was "Can You Rock It Like This". LL Cool J had a ghostwriting hand in this song.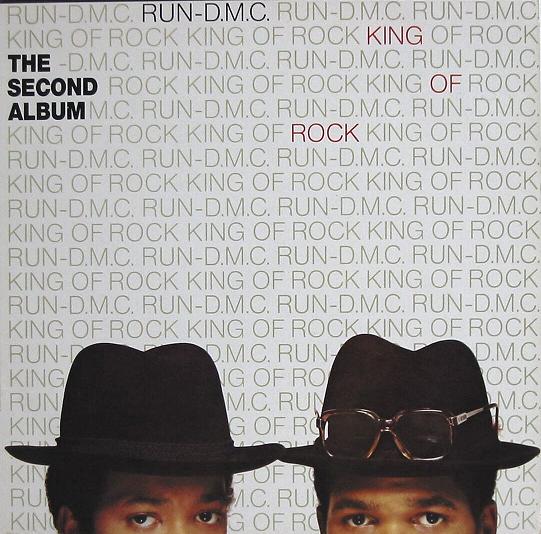 Track list:
01 Rock The House
02 King Of Rock
03 You Talk Too Much
04 Jam-Master Jammin'
05 Roots, Rap, Reggae
06 Can You Rock It Like This
07 You're Blind
08 It's Not Funny
09 Darryl And Joe (Krush-Groove 3)
In 2005 the album was re-released with four bonus tracks:
10 Slow And Low (Demo)
11 Together Forever (Krush-Groove 4) (Live)
12 Jam-Master Jammin' (Remix, long version)
13 King Of Rock (Live, from Live Aid)
"Slow And Low" which was recorded September 14th, 1984 by Run-DMC but never released as a Run-DMC track before the 2005 re-release, was later recorded by the Beastie Boys for their "Licensed To Ill" album.