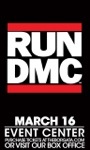 Run and DMC were kickin' it live the other day at the sold out Borgata, Atlantic City.
Because Run-DMC didn't have JMJ (RIP), they brought Jay's sons with them. One goes by the name of DJ JamMaster Json and the other son is Dasmatic.
In an interview with Run ahead of the Borgata show in Atlantic City Weekly, Run shared some background of how this show and the two others they played in the last year came to life. He also told some interesting memories about how their song Rock Box was developed 30 years ago.
Run also said that Run-DMC as a group has a couple more engagements lined up, but no one should expect them to release new tracks anytime soon.
A short video taken at the show found on Youtube features It's Like That and It's Tricky. For a video probably shot with a mobile quality is alright – sounds like them guys can still rock a rhyme and a crowd.
The show itself opened with one of their most iconic songs, Rock Box.
[youtube https://www.youtube.com/watch?v=Dy9vElpkrmA ]