In 1984 Run-DMC released their 1st and selftitled studio album "Run-D.M.C.".
The 9 track album's electronic hard beats, aggressive rhymes and rock influences were quite contrary to the Hip Hop music of this time which was mostly light and funky.
Almost everybody will know "It's Like That" which was Run-DMC's debut single. Also likely well known is "Hard Times", the opening track of the album. And "Rock Box" was the first Hip Hop video to be aired on MTV.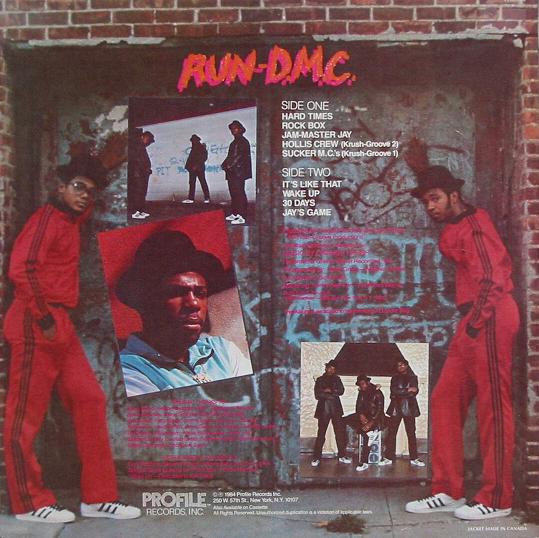 Track list:
01 Hard Times
02 Rock Box
03 Jam-Master Jay
04 Hollis Crew (Krush-Groove 2)
05 Sucker M.C.'s (Krush-Groove 1)
06 It's Like That
07 Wake Up
08 30 Days
09 Jay's Game
In 2005 the album was re-released with four bonus tracks:
10 Rock Box (B-Boy Mix)
11 Here We Go (Live At The Funhouse)
12 Sucker M.C.'s (Live)
13 Russell & Larry Running At The Mouth